In the movie Ferris Bueller's Day Off,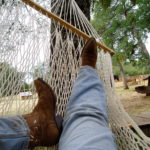 Bueller cautions us that "Life moves pretty fast. If you don't stop and look around once in a while, you could miss it."
I agree. This is why I recommend mental health days, weekend getaways and vacations to my clients, including those that they take by themselves.
We are more present when we're traveling. We are more awake. Our senses are heightened, so we are more connected to our body and less in our head.
As Bueller suggests we don't want to miss our lives and getting out of our ruts/routines can allow us to see the world with fresh eyes. Traveling can shift our views of reality and what's possible. Taking a vacation is literally about setting your self free.
Go on Vacation with Yourself
Once or twice a year, go on a vacation by yourself for at least two nights. Pick a destination you feel drawn to.  This is about enjoying unstructured time that you structure as you go. You should be completely free to determine your schedule.
During your vacation, do only what you want to do.
Don't make any plans before arriving unless they are things you really want to do and that require advance planning. Otherwise, show up first and decide later. Don't plan on meeting anyone. If you can swing it, limit your contact with loved ones to a "Yes, I've arrived" call and no more than daily emails to let people know you're safe and so you know all's well on the home front. There will be plenty of time to share when you return.
Get Yourself Out of Routine
The point is to get yourself out of your routine and disconnect you from social approval and social obligations, which will allow you to check in with yourself. This is your time to break free and listen to yourself—a time to tap into your internal compass. During your sojourn, listen to your intuition concerning what to do or not do, when to get up, when to go to sleep, when to eat, what to eat, and how to spend your time.
Bring a journal with you. Reading material is optional. If you do bring something to read, make sure it's not going to distract you from connecting with yourself. If it's something contemplative that allows you to go deeper within yourself, that's perfect. If it's someone else's memoir, leave it behind unless it's related to something you want to do.
Don't drive unless you have to.
Driving keeps you in your head and out of your body and senses. In fact, many of us tend to go into trance states when we drive.  Take a train or a boat.
Create opportunities for walking so you can slow down and get into your own rhythm.
Walking will keep you more present. Meander, going wherever you feel like going. Give yourself lots of room to roam. Also, make sure there are places you can be out in nature, as well as places you can sit and be still, such as gardens, beaches, boardwalks, hiking trails, park benches, and outdoor cafes.
Get grounded.
The more grounded you are, the more connected you are to earth and your own body, the better.
On my trips to Italy, I wander through the streets to different squares and neighborhoods. Depending on my mood, I might stop at a café, or I might sit by a canal or the ocean, or in a quiet courtyard or garden. I give myself lots of time to just be, with no agenda except to feel the edges of myself and enjoy my own companionship.
We need time to be our own best friend, and we need time to be with this best friend because it creates solidity.