Davina is the perfect person to hire as an inspirational speaker for your event.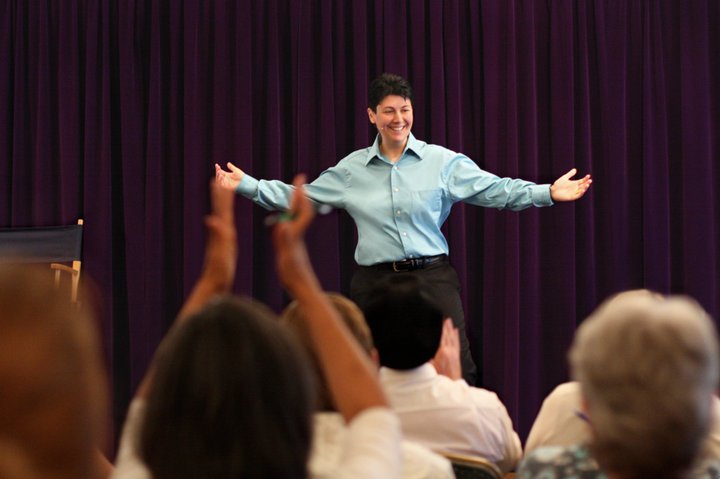 Davina was honored with the Dale Carnegie Award for highest achievement for her public speaking skills and has spoken extensively throughout the United States as a key note speaker, trainer, author, and leader.
Talks Include:
It's Never Too Late to be Your Self -Follow Your Inner Compass and Take Back Your Life
LGBT Equality and Diversity
Understanding the LGBTIQ Alphabet
How to Live From Your Courageous Heart
How to Be a Love Warrior Leader- Using the Tools of Love, Compassion and Forgiveness in Leadership
How to Live Your Courageously Authentic Life
Winning Marriage Equality in the U.S.
Clinical Work with the LGBTIQ Population
Making a Difference, Changing the World
Why You Should Give A Damn About Gay Marriage
Previous Speaking Engagements & Readings
Guest Speaker at Schools, Universities and Public Libraries
Masha Dexter Lecture Series, Brown University, Providence Rhode Island
California School of Professional Psychology
California State Home Schooling Conference
California State University East Bay
Cuyamaca College, San Diego, CA
Cypress College, California
Drake University, Iowa
Foothill College, California
Golden West College, California
Grossmont College, El Cajon, California
Holy Names University, Oakland, California
John F. Kennedy University, Pleasant Hill, California
LAUSD
Mills College, Oakland, California
New College of San Francisco
Oakland Public Library, California
Riverside City College
Seattle Public Library, Washington
Solano Community College, California
St. Mary's College, Moraga, California
San Francisco State University
University of California, Berkeley
University of California, Santa Barbara
University of Southern California, Los Angeles
University of Denver, Women's College
University of Indiana, South Bend
University of Iowa
University of Oregon, Eugene
University of Pennsylvania, Pittsburgh
University of Wyoming, Laramie.
Presentations and Speeches at Houses of Worship, Holistic Community Centers, Retreat Centers and Sacred Gatherings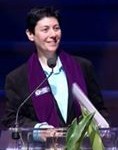 Agape International Spiritual Center
B'nai Tikvah (Walnut Creek, CA)
Beyt Tikkun Synagogue (San Francisco, CA)
Common Wealth Club of California (San Francisco, CA)
Cathedral of Hope (Dallas, TX)
Community Presbyterian Church and First Congregational Church of Antioch (Pittsburg, CA)
Metropolitan Community Churches (Bakersfield, CA; Indianapolis,IN; San Francisco, CA)
Oakland Center for Spiritual Living (Oakland, CA)
Temple Sinai (Oakland, CA)
Unitarian Universalist Churches in Arkansas (Eureka Springs, Fayetteville)
Unitarian Universalist Churches in California (Berkeley, El Cerrito, Mendocino, Mission Viejo – Tapestry, Modesto, Oakland, Redding, Riverside, San Francisco)
Unitarian Universalist Churches in Colorado (Denver)
Unitarian Universalist Churches in Ohio (Akron, Cinncinatti)
Unitarian Universalist Churches in Wyoming (Cheyenne)
United Church of Christ (Fremont, CA; Hayward, CA; Redding, CA)
Second Wind Church (San Francisco, CA)
Equality California Valentines Day Fundraiser
Equality California- Solano County- Get Engaged Event
Rape Trauma Services (Burlingame, CA)
Trinity Methodist Church (Austin, TX)
Sacramento Center for Spiritual Living ( July 2019)
Salt Studio Holistic Wellness Center (Pasadena, CA)
Greenheart Yoga Meditation Center (San Marino, CA)
Unity Ukiah
Center for Spiritual Living Ukiah (June 2019)
Center for Spiritual Living Mendocino (June 2019)
Readings and Talks at Bookstores
Avid Reader (Davis and Sacramento, CA)
Barnes and Noble (Eugene)
Book Woman (Austin, TX)
Books Inc.(San Francisco)
Borders Books (Ft. Lauderdale, FL; Raleigh, NC; Durham, NC; Chapel Hill, NC, San Mateo, CA)
Changemakers (Oakland, CA)
Cody's Bookstore (Berkeley, CA; San Francisco, CA)
Crossroads Market Bookstore (Dallas, TX)
Different Light Bookstores (San Francisco and Los Angeles, CA)
Gallery Bookshop (Mendocino, CA)
Laurel Books (Oakland, CA)
Leaves of Grass Bookstore (Willits, CA)
Malaprop's Bookstore (Ashville, NC)
Now Voyager Books (Provincetown, MA)
Obeslisk Books (San Diego, CA)
Old Firehouse Bookstore (Ft. Collins, CO)
Outwrite Bookstore (Atlanta, GA)
Powell's Bookstore (Portland, OR)
Pride and Joy Bookstore (Northampton, MA)
River Reader (Guerneville, CA), and many more.
Speaker at Conferences and Events

Finding Freedom, 2019 (Palm Springs, CA)
Mercy for Animals, Annual Retreat, 2018 (Los Angeles, CA)
Finding Freedom, 2018 (Palm Springs, CA)
National Association of Bar Executives Conference at the American Bar Association, 2016 (San Francisco, CA)
United States Prison Affirmative Action Program, 2015 (At Water, CA)
Models of Pride 2013 (Los Angeles, CA)
Federal Correctional Institution Affirmative Action Program, 2012 (Dublin, CA)
Southern California Regional PFLAG Conference, 2011 (Los Angeles, CA)
Affirmation National Conference 2010 (San Francisco, CA)
Cultural Competence in Mental Health 2009 (San Mateo, CA)
Kaleidescope of Identities: Clinical Approaches to Working with Women, Culture, and Intersecting Identities 2009 (San Francisco, CA)
Equality Forum Marriage Panel 2006 (Philadelphia, PA)
Creating Change 2005 (Oakland, CA)
All God's Children Panel 2003 (Oakland, CA)
Featured Speaker at LGBT Rallies
National Marriage Equality Rally 2004 (Washington, DC)
Marriage Equality NOW Rally 2006 (Seattle, WA)
Featured Speaker at PFLAG Meeting and LGBT Centers     
PFLAG meeting at Montview Presbyterian Church(Denver, CO)
Lighthouse Community Center(Hayward, CA)
Rainbow Community Center (Concord, CA)
LGBT Center (San Francisco, CA)
LGBT Center (Charlotte, NC)