It's Never Too Late To Be Your Self:  Follow Your Inner Compass and Take Back Your Life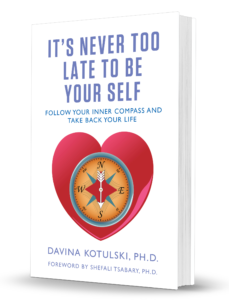 Nautilus Award Winner, Finalist International Book Awards, and Readers' Choice Five Star Book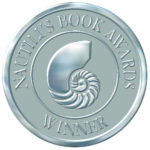 "A wise guide for discovering, activating, and expressing the innate capacities of the human heart"

Now Available as an Award Winning Audiobook on Audible!

Reader's Choice Five Star Review
It's Never Too Late to Be Your Self: Follow Your Inner Compass and Take Back Your Life by Davina Kotulski is a powerful book on personal development, one that offers tools and secrets to unlocking the doors to personal fulfillment, growth, and success, and it is well-crafted for contemporary readers. Most people are not satisfied with the life they are living because they are disconnected from themselves. They spend their lives chasing ideas, values and dreams suggested to them by our eclectic culture, struggling to meet standards set by others. In this book, the author shares the wisdom that readers need to reconnect with their deepest desires and feel at one with themselves because it is only then that they can live with truth and authenticity. This book shows why we need to use our inner compass to identify what we truly need, our desires, and how to use them to create success and purpose.
Davina Kotulski observes that: "Many of us have an objection to feeling joyous. Something in us resists feeling wonderful, resists the fullness of life. We feel there's something flawed about us, something not quite right about who we are. Religious doctrine has contributed to this. For some people, this feeling is familiar and therefore comfortable." This book helps readers turn things around, empowering them to overcome their internal resistance to growth, joy, and happiness, and providing actionable steps to learn to listen to themselves, to take control of their dreams, and to find tools that help them beat fear and obstacles on the way. It's Never Too Late to Be Your Self is a book I found to be very edifying, packed with wisdom and insight, one of those books to read or listen to and pass on.
Narrated in a voice that is down to earth and engaging, in a style that connects with readers, allowing a heart to heart conversation, this is an audiobook to have in your car and in your home. The words are filled with power and that energy is communicated in the confident and clear voice of the narrator.
Connect with me on Social Media!