What makes a person courageous?
A courageous person goes against the stream. Unlike a rebel who is simply defiant, a courageous person goes against the stream because they have a higher purpose.
Oprah Winfrey revolutionized TV talk shows by focusing on literature, self-improvement, and spirituality to empower audiences.
A courageous person sees possibilities where others don't.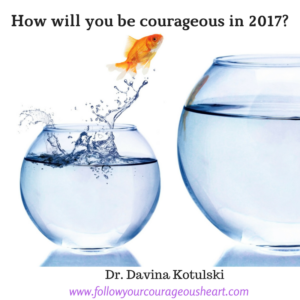 Steve Jobs saw possibilities others didn't see and revolutionized the computer world.
A courageous person treads where others fear to tread. It doesn't mean that a courageous person doesn't feel fear. It means that they don't let fear stop them.
Ellen DeGeneres created a show that had an openly gay character. Ellen was the first openly gay actor to play an openly gay character.
A courageous person doesn't let social convention stop them. They courageously express themselves in ways that are authentic to them.
Prince and David Bowie are two examples of men who expressed themselves in ways that were outside of social convention. They both had innovative musical styles.
A courageous person works to make changes in laws when they see something wrong. 
Nelson Mandela had the courage to fight against the unjust system of apartheid. He was sent to prison for 20 years and during that time he says he was preparing to lead his country, which he did. He became the president of South Africa, when he was released two decades later.
Mandela said, "I learned that courage was not the absence of fear, but the triumph over it. The brave man is not he who does not feel afraid, but he who conquers that fear.:

Erin Brockovich, a legal clerk, works to hold corporations accountable for their pollutants and helped win one of the largest lawsuits against PGE for polluting the drinking water of residents in a Southern California town.
A courageous person stands up for the rights of others.
Chiune Sugihara, a Japanese diplomat in Lithuania, helped 6,000 Jews escape from Lithuania during the holocaust by personally writing exit visas violating orders from Tokyo.
Harriet Tubman, a runaway slave, returned to help thousands of other slaves through the Underground Railroad escape to freedom.
A courageous person stands up for themselves and thus help others like them who are being treated unfairly.
People like Martin Luther King, Jr., Harvey Milk, Cesar Chavez, Dolores Huerta, and Rosa Parks.
A courageous person goes after their dreams.
Malala Yousafzai a young Pakistani woman continued going to school after receiving death threats. She survived an attack on her life and continues to speak out for girls to have an equal right to education.

A courageous person believes in themselves and puts in the time to make their dreams come true.
At twelve years old, Muhammad Ali began training as a boxer. He dreamed of being a world champion and he become one. He said, "Impossible is just a big word thrown around by small men who find it easier to live in the world they've been given than to explore the power they have to change it."
There are many ways to be courageous. How will you be courageous in 2017?
Check out my free call 7 Steps to Move Beyond Fear and Courageously Live the Life of Your Dreams