Love and Trans-formation!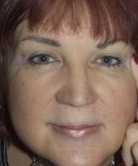 For 45 years Rachel Love was a conservative, heterosexual male. She worked in the coal/nuclear industry for Southern California Edison for 27 of those 45 years. In 1999, she had an awakening about her real self which was later confirmed by her grandmother's death bed confession about her being born "messed up" (intersexed).
It was then that she realized she was a woman. That Halloween, she ventured out in women's clothing. Rachel endured the gossip and teasing of her co-workers through the holidays and in the beginning of the new millennium, Jan 6, 2000, she had an official gender change and began living full time as a woman.
That's when her life turned upside down!
Her employer, Southern California Edison, made her re-interview for her job. Since she was hired as a man, and was now living as a woman, her employer believed that she was no longer qualified to do the work she'd been doing as a man for 27 years. She was even targeted and protested by local Christians who perceived her as the anti-Christ during the Y2K scare, one person even "pissed" on her.
Ultimately, she was chased out of her job and went from living a middle-class lifestyle in the Los Angeles area to living in abject poverty in the outskirts of San Bernadino County surrounded by women struggling to survive through sex work. It was a radical shift and even through the crushing loss, and her feeling abandoned by God, Rachel's empathy grew as did her resolve to help others.
Rachel ended up in the Midwest. While living in Arkansas, she decided to run for mayor of a small city. She didn't win, but she was well-liked and respected by the community for her courage, humanitarianism and sense of humor. Rachel became ordained as a minister of the Assembly of God.
Later she relocated to Tulsa where she has continued to be an activist and change agent. Rachel believes in giving back to her community and has created several charities and organizations to raise funds and awareness for the causes she believes in. She is Vice President of The National Center for Inclusion, a nonprofit organization for Human Rights. Rachel is also a Transition Coach for Engage Life Institute, a pastor of Sacred Hoop Interfaith Center, and founder of "It Shouldn't Hurt. Com" a social media campaign against child abuse.
"I am Victorious Not a Victim!"
Rachel wants people to know that she is "a victorious person not a victim." While she acknowledges the pain that she and so many have experienced, she says, "It was a learning experience that taught me so much about who I really am. I wouldn't wish my struggles on any one but I am blessed because of those experiences."
Love has recently taken her message of victory, inclusion and acceptance to the radio waves! Currently she has two shows. "We Are Family – Our Story" and is Co Host of "Living Out Loud -No Fear -No Regrets" on a2zen.fm.
Listen In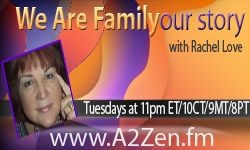 I will be a guest on the Rachel Love Show on October 23 at 8:00 PM PST.
Tune into a2zen.fm to listen to my interview with Rachel Love!
You can also listen to a powerful and tear-jerking interview where Rachel shares her personal story. Click here to listen to Rachel's courageous sharing. No one should have to go through what Rachel went through.
Intersex Information
According to The Intersex Society of North America (ISNA): "If you ask experts at medical centers how often a child is born so noticeably atypical in terms of genitalia that a specialist in sex differentiation is called in, the number comes out to about 1 in 1500 to 1 in 2000 births."
They define intersex as "a general term used for a variety of conditions in which a person is born with a reproductive or sexual anatomy that doesn't seem to fit the typical definitions of female or male." ISNA is "devoted to systemic change to end shame, secrecy, and unwanted genital surgeries for people born with an anatomy that someone decided is not standard for male or female." They believe that:
Go to http://www.isna.org/ to learn more about The Intersex Society of North America (ISNA).