Imagine Equality
Can you feel the love? What a beautiful day to get married! Same-sex couples in Delaware and California are exchanging wedding vows today!
"It's about time!" One woman exclaims, commenting on the legal same-sex marriage ceremonies that are taking place in West Hollywood.
John Lennon sings "Imagine" in the background. It brings a smile to my face. Yes, people said we were dreamers when we started Marriage Equality California back in 2000 and now that dream is reality and here to stay!
I drove to West Hollywood to watch the city councilmembers get deputized to perform wedding ceremonies. It's a celebratory vibe with only one dissenter, stating that Jesus would be ashamed. There's some shouting back before she is escorted out of the council chambers.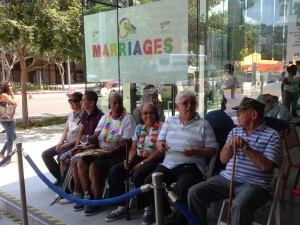 Outside sitting in a line of chairs below a rainbow colored "Marriages" banner are David Barney and Paul Mejia who have waited 43 years for this day. Wanda Lawson and Lauryne Braithwaite together 32 years sit alongside them. The couples are exchanging stories of their lives together. They have already had long happy marriages. For these couples the happily-ever-afters are social security benefits and the long overdue official recognition of their relationship by the government. Wanda and Lauryne wear white shirts and matching rainbow-colored flower leis, David and Paul striped shirts. David holds his cane.
The county clerk is wearing a purple striped tie and wears a blue button that says "Keep Calm and Marry On." He's grinning from ear to ear. This is a great day for West Hollywood!
I snap photos of Ariel and Louis who have been together for 13 years. They seem shy. They've come alone and I've offered to document their historic moment. They are wearing matching white shirts, tan pants, and brown shoes. They are adorable. I watch the Mayor of West Hollywood, Abbe Land, perform their ceremony. They're so nervous Ariel puts out his right hand and Louis almost puts it on the wrong finger. Been there! How can they not be nervous exchanging vows in front of dozens of reporters snapping photos.
Perhaps it's nerves, or internalized homophobia, but some of the couples don't hold hands during the service and their public "You may kiss your spouse" kisses are a little tentative. I think of all the times gay people have been shamed for showing affection, for "flaunting our sexuality." I hope that with each day marriage equality is legal, same-sex couples will feel more comfortable holding hands and engaging in public displays of affection. "You may now kiss your bride or kiss your groom," should be followed by a kiss long enough for a photographer to snap a photo. In Ariel and Louis's case, I was able to capture a beautiful embrace of joy!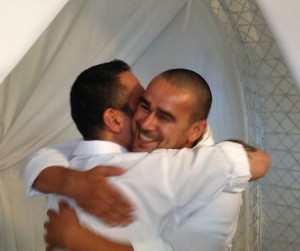 It's a little weird to be behind the camera at a marriage equality event instead of in front of it. It's unfamiliar, a little humbling maybe, but fun to document the smiles and love of these newlyweds. I've had my moment and now it's their time. Someone comments "I hope that these couples will be the 50% of couples that don't get divorced."
Last Friday night I decided to drive into West Hollywood to celebrate the 9th court lifting the stay on the marriages. I felt a little sad that I wasn't in San Francisco to celebrate with all the people who've I worked with over the years to make marriage equality a possibility in California.
Still being new to Los Angeles, I ended up turning into a residential area and then driving up some street towards Santa Monica Blvd. As I was stopped at the stoplight, I glanced left and saw my seminal book on marriage equality "Why You Should Give A Damn About Gay Marriage" in the window. I quickly put my car in reverse, parked and ran out to snap a shot. I remembered when I used to dream about being a published author and imagining my book on the bookshelves in Barnes and Nobles in Iowa (where they have marriage equality), simply because it was the first Midwestern state I thought of, and in store windows across the country. It was another reminder of personal dreams that have come true and the power of our imaginations to create those big dreams in the first place.
What new dreams will emerge as we paint the remaining 37 states equal? We still have to pass ENDA. We still have to end transphobia and make sure that transgender people have equal opportunities and access to employment and healthcare. There's some serious work to be done in Uganda and Russia among other places for LGBT people. What will life be like in the post-DOMA era?