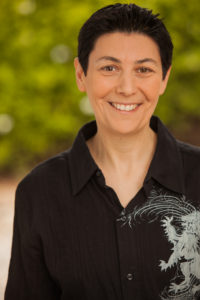 Davina Kotulski, Ph.D. is a licensed clinical psychologist, life coach, LGBT rights leader, speaker, spiritual counselor, and author.
Psychologist
Davina graduated from the California School of Professional Psychology (Alameda-CA) in 1996 with a Ph.D. in Clinical Psychology. She worked for over thirteen years as a psychologist in prison settings, first with male inmates for the California Department of Corrections and then with female inmates at the Federal Correctional Institution in California. The focus of her work was helping inmates recover from addiction and trauma, build self-esteem and pro-social values, and find their positive passion for life. She has presented at the Association of Women in Psychology Annual Conference and the American Society of Corrections Conference.
Dr. Kotulski has consulted with universities, residential treatment centers with high risk adolescents, rape trauma centers, and the Anthony Robbins Foundation Prison Summit.  Davina was an adjunct professor of psychology and counseling at Holy Names Names University, John F. Kennedy University, the California School of Professional Psychology at Alliant International University and New College of San Francisco.
Author
Davina Kotulski is the author of two non-fiction books on marriage equality– Love Warriors: The Rise of the Marriage Equality Movement and Why It Will Prevail  2009) and Why You Should Give A Damn About Gay Marriage  (2004) a quick-witted common sense handbook addressing the absurdities embedded in arguments against marriage equality, as well as in separate-but-equal "marriage lite" options such as domestic partnerships.
Additional Publications Davina has also published a personal essay entitled "Diary of a Love Warrior" in the anthology "Here Comes the Brides" (Seal Press, 2012), a short story entitled "They Call Me Phoenix" (Sand Hill Review, July 2010), and a prose piece in "Queers on Marriage"  (Suspect Thoughts Press, 2004).
Davina has written for the Bay Area Reporter, Bond Magazine, Outword Magazine, and has published several non-fiction articles published in academic psychology journals. She received an Honorable Mention for a short fiction piece in the Dylan Days Writing Contest.
She is currently working on two mainstream fiction novels.
Activist and Nationally Recognized Leader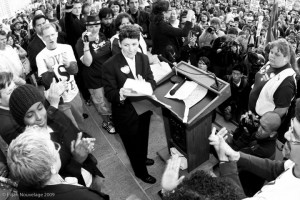 Davina Kotulski is an activist for Lesbian, Gay, Bisexual and Transgender Equal Rights and a nationally recognized leader, speaker and writer within the marriage equality movement dating back to her efforts to pass a pro-marriage equality initiative with Californians for Same Sex Marriage (CASSM) in 1999 and in her work to defeat Prop 22, the Knight Initiative.
In 2001, she joined Marriage Equality USA and helped launch a pro-active effort to win marriage equality in the state of California. Davina also served on the California Freedom to Marry's Outreach Committee and was the Executive Director of Marriage Equality USA.
Beginning in February 2001, Kotulski and her former wife, Molly McKay, began going to City Halls in the Bay Area asking for marriage licenses and organizing annual "Marriage License Counter" protests to draw attention to the hundreds of rights same-sex couples contend they are denied. After three years of asking for a marriage license at Country Clerk's Offices throughout the Bay Area, Davina and Molly were married on February 12, 2004 by Senator Mark Leno.
On August 11, 2004 the California State Supreme Court invalidated their marriage, along with 4,000 other couples. Kotulski responded by organizing the "Marriage Equality Express," an educational bus tour across the United States that culminated in the first national marriage equality rally in Washington, DC on October 11, 2004. Kotulski and 43 activists traveled across the country in a bus, known as the Marriage Equality Caravan, stopping in 13 states and hosting marriage equality forums and panels at universities and churches. On October 11, 2004, under Kotulski's leadership, the first National Marriage Equality Rally was held in Washington, DC and covered on CSPAN. Time and Parade magazines included the rally when citing the importance of marriage equality activism as one of the top 10 issues of 2004.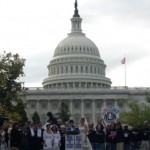 In November 2004,  she co-organized a LIFT THE BAN rally in protest of the Don't Ask Don't Tell Policy in Oakland, CA with Service Members Legal Defense Network, Equality California, and Bay Area American Two Spirits. In June 2005, she became the Executive Director of Marriage Equality USA.
On March 11, 2006, Kotulski was a featured speaker at the Marriage Equality NOW rally in Seattle. In Spring 2006, Kotulski was one of four national experts that appeared on a marriage equality panel at the Equality Forum in Philadelphia and in Fall 2006, she debated anti-gay marriage leader Maggie Gallagher at Brown University as part of the Masha Dexter Lecture Series in September of that year. In 2008, Kotulski met with the Deputy Mayor of Venice Italy, professors from Padua University, and representatives from the Venezia LGBT Community to discuss marriage equality strategies in Italy.
In the fall of 2008, after the California State Supreme Court struck down the ban on gay marriage, and she legally married Molly McKay. Kotulski and McKay were were awarded Community Grand Marshals in the 2009 San Francisco Pride Parade and continued to fight for marriage equality and LGBT rights world wide. In June 2011, the couple decided it was best to separate and exercised their right to divorce, one of the important rights that comes with the right to marry.
In June 2015, four years after their divorce, Molly and Davina celebrated the U.S. Supreme Court's decision striking down all bans against same-sex marriage by marching a victory lap together with Marriage Equality USA in the San Francisco LGBT Pride Parade.
Media
Davina Kotulski has appeared on CNN, Newsweek, Time and USA Today. She's been featured in over a dozen documentaries and films including: Freedom to Marry (shown in 7 countries and featured on PBS), Pursuit of Equality, Wedding Wars, Prop 8 Love Stories, and I Will, I Do, We Did. She's also appeared on several television specials on marriage equality in the U.S., Italy, and on a Queer Nation TV special in New Zealand.
Awards
Kotulski has received the"Defenders of Love" Award from the East Bay Pride Committee (2003), the "Saints Alive" Award from the San Francisco Metropolitan Community Church (2004), the Michael Switzer Leadership Award (2006), and was "sainted" by the Sisters of Perpetual Indulgence for her advocacy on behalf of full marriage equality for all couples.
Speaker
Davina has spoken extensively around the country and continues to speak to audiences on topics such as: LGBT equality, diversity, leadership, authenticity, being courageous, spirituality, and more.
Click here for a list of Locations and Events Davina has spoken at.