Much of what I do as a therapist and life coach is help people find their voice and  connect with their self-love and authenticity.

But often before we can connect with our essential nature we need to clear bramble.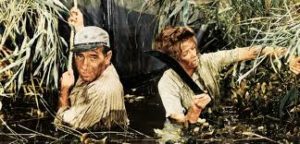 What do I mean by bramble?
The layers of self-doubt, feelings of inadequacy, unworthiness, the habit of comparing ourselves to others and finding ourselves coming up short, lacking in some important aspect or quality. That my friend is the bramble of our minds!
We need to rid ourselves of the negative habits of mind and mouth.
We need to put an end to self-attack thoughts, repetitive, self-deprecating and disparaging self-talk, repeated apologies for our very existence.
No more dwelling on the negative. Enough of  finding fault with ourselves, which creates a low vibrational reality.
We need to Marie Kondo our minds.
We need to tidy our minds and leave only that which "sparks joy" as she would say. Thoughts, self-talk, outside talk that sparks joy, sparks confidence, and self-love.
We can thank those old negative thought and speech patterns for whatever purpose they served and then clear them out of our mental space, keeping only the good stuff.  And when we find those old thought forms and self-loathing beginning to fill our mental space again, we can sweep them out the door!
What are the positive things you want to affirm for yourself?
What are some loving things you can say to yourself?
What can you acknowledge about yourself?
Keep at it!
If you find yourself listening to negative music turn it off.
Make a positive, self-empowerment play list. A playlist that buoys you up.
Believe me, Baby, you're worth it!
Need a little boost?
Get a copy of It's Never Too Late to Be Your Self and learn more about how to take back your life.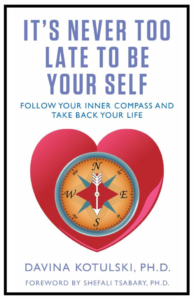 —————————————————————————————
January 2019 Upcoming Events
—————————————————————————————
Finding Freedom LGBTQ Symposium at The Riviera Palm Springs
Saturday January 26th 10:30 AM-12:00 PM
Workshop-The Psychological Cost of Not Coming Out to Your Kids: How Hiding Contributes to Addictive and Dysfunctional Behavior.
CEU credits for Psychologists, LCSWs, MFTs and more.
—————————————————————————————
Follow Your Inner Compass and Take Back Your Life Workshop
Sunday January 27th 12:30-2:30 PM
$35 includes a signed copy of It's Never Too Late to Be Your Self.
Palm Springs Center for Spiritual Living, Palm Springs, CA
—————————————————————————————
Past Life Group Regression at the Salt Studio Pasadena, CA
Thursday January 31,  7:00 PM
Ever wondered who you were in a previous lifetime?
Do you have memories from previous lifetimes or reoccurring dreams?
Met people you feel like you've known before?
Come experience as past life regression!
The Salt Studio 1380 Walnut St. Pasadena, CA
RSVP online or call  (626) 765-6180

—————————————————————————————