SEDUCE YOUR MUSE™ in VENICE ITALY 
Dates:  Spring 2020
A Seven Day Writing Workshop & Retreat in Venice Italy
Your spirit is calling!
It's time to birth that book you've always wanted to write!
Now is the time say "yes" to your creative longings and have a transformative, joyful experience! 
Say yes to your Muse and seven days to write surrounded by the inspiring beauty of Venice, Italy, while enjoying seven nights accommodation in a beautiful, Venetian Palazzo only minutes from the Rialto and St. Marks Square! 
MUST REGISTER BY March 3rd TO RESERVE YOUR SPACE
There will be time to take your muse for a walk and have artist dates with yourself, morning meditation and moonlight muse walks. You'll also have time to explore the museums, galleries, and sights of Venice, Italy.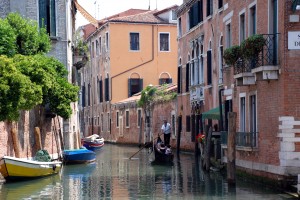 Come write your book in a peaceful, mystical, magical setting that will call forth your muse. Write and participate in fun, creative exercises that will activate your muse on and help you manifest your manuscript!
PLUS, receive a private 45 minute one-on-one book break-through coaching session!
Would you like to make a bigger difference in the world and impact more people with your message?
Writing a book opens doors and helps you make an even bigger difference in the world.
I want doors to open for you, and I want you to love and enjoy the process of creating your book — that's why I created Seduce Your Muse!
Are you ready to be INSPIRED and WRITE THAT BOOK you've always dreamed of writing?
Join me for the Seduce Your Muse Workshop and jump start your book with creative momentum, focus, and fun!
It is EASIER THAN YOU THINK!
In this retreat you will:
1. Create an inspiring outline of your book.
2. Participate in daily creativity exercises that get your creative juices flowing!
3. Find your voice and your authentic self-expression!
4. Immerse yourself in a beautiful, inspiring environment where you can have time and luxury to get into the creative flow and write.
5. Breakthrough writer's block and manifest your book!
6. Play and relax!
7. CAPTURE YOUR MESSAGE and POSITIVELY IMPACT people's lives!
8. START LIVING YOUR DREAMS!!
SEDUCE YOUR MUSE™ in Venice, Italy!
7 Day Writing Retreat & Workshop in Italy
One Personalized Book Breakthrough Coaching Session
7 Nights Lodging in a beautiful Venetian Palazzo on a canal located near St. Mark's Square. You will have your own private room in a large shared flat which includes a kitchen, dining room, living room, and two bathrooms. Free WIFI and other wonderful amenities.
Here's what people are saying about Seduce Your Muse:
  "LOVED IT ALL – LIFE CHANGING!!"  –Sharon, Ottawa, Canada
"I would definitely do this again! I will be recommending this to other "kindred spirits" who would be able to receive and learn from Davina's gifts. Davina is both inspirational and great fun. She clearly knows and loves this city. Seduce Your Muse was very well organized and Davina kept the pace moving in time. I loved Davina's coaching for inspiration! Seduce Your Muse jump starts your writing: Venice awakens your soul."
"Seduce Your Muse was rich, stimulating, and extremely helpful. I would totally do it again!" –Laurie, California, USA
"I loved the variety of different types of writing and of the creativity and coaching exercises that brought out different dimensions of my self.  It was very powerful! I loved the combination of being in a beautiful, magical, fascinating place – and awakening creativity and being creative is incredibly juicy and satisfying. Yummmm! Davina has a wonderful capacity to coach, to support and draw out essence and life force! I loved her playfulness and sense of drama – and our full moon walk night with masks."
"This workshop went beyond my expectations. And I'm a tough audience!" -Jacqueline B., Canada
"Seduce Your Muse unleashed my creativity and refreshed my writing. Davina creates a safe space where you can explore the new realms that writing can take you into. She is a competent coach who encourages us to become whom we want to be and helps us to let go of what no longer serves us. I will recommend Seduce Your Muse to others and yes, I would love to do this again."
"High quality retreat! Very inspiring! Now I know I can manifest this dream!!"  -Yessica, Amsterdam
"Top notch retreat. High value for price! I would recommend Seduce Your Muse to others. You relax more and can be even more of your true self. Intimate and safe. Vacation-feel away from it all in a really unique and distinctive location. Very inspiring, stimulating and helped me get unstuck and writing again."
"Seduce Your Muse is a perfect blend of beauty, fun, learning and good friends!.. The week I spent with Davina brought writing out of me I never imagined I had.  She is a kind, soulful teacher grounded in her art and in spirit.  The apartment was clean, fully equipped and so much fun. My bedroom windows opened onto a small canal, and there was even a washer and dryer.  There was plenty of time for both writing and sightseeing.  Definitely a do again."- Garnet M., California
ITINERARY
Day 1 Check in After 3:00 PM Retreat and Workshop Begin at 5:00 PM
Day 2-Day 6 Workshop Hours TBA
Day 7 Workshop Ends at 1:00 PM
Day 8 Check out 10:00 AM
TUITION INCLUDES:
• 7 Day Writing Retreat & Workshop in Italy
• 7 Nights Lodging in a beautiful Venetian Palazzo on a canal located near St. Mark's Square. You will have your own private room in a large shared flat which includes a kitchen, dining room, living room, and two bathrooms. Free WIFI and other wonderful amenities.
• One Personalized Book Breakthrough Coaching Session
Questions about the workshop or just need a little more information to find out if the Seduce Your Muse Writing Retreat and Workshop is for you? E-mail me at: davina@davinakotulski.com or call (510) 594-4322 and I will be happy to answer your questions! Please make sure your message includes your phone number if you want a call back.
RESERVE YOUR SPOT NOW!
$497 Deposit Only

"5 Star."
"Fabulous!! Couldn't be better! Great space, light! Need instructions on how to use Bidet."
"Accommodations were way beyond expectations way way beyond for Europe. Large, spacious, clean, functional, well-located. Best accommodations so far for traveling!"
"10 out of 10."
"Excellent! Comfortable, convenient, easy to find and get around!"
"Top notch!"
Here's what they said about the location: 
"Bringing out the muses!-The destination was beautiful, inspiring, City of Harmony. No traffic. Great food! Walking only is great!"
"Venice is an amazing city – magical, beautiful, opulent in its beauty!"
"I loved the beauty, the water, and the history!"
"Restaurants, coffee shops, food."
"Romantic!"
"Loved the gondola rides and tours of the city."
IMPORTANT NOTES:
After the workshop has filled, I will maintain a waiting list. Failure to meet any of the payment deadlines listed below, including your submission of your travel itinerary, may be construed as cancellation.
In the event that I have to cancel the workshop due to insufficient enrollment, I will refund all money paid to me. I suggest not purchasing airline tickets until I inform successful applicants that I have met the minimum interest level. However, I cannot be held responsible for air fares or other costs incurred by prospective students. In the event of force majeur, I will issue refunds to the best of my ability. Please look into travel insurance.
Please note, we will not have room at the palazzo for guests who are not registered in the Seduce Your Muse retreat. Couples who both register for Seduce Your Muse are welcome.
APPLICATION:
You will be asked to submit a letter of intent for the retreat which includes a bio and a one page description of the writing project you will be working on  while in Italy to davina@davinakotulski.com. The program is designed primarily for writers and authors who are working on a book or developing their writing voice.
$497 non-refundable deposit to reserve spot when we confirm your admission.
* The balance of your trip is due by March 1, 2019.