Are you in the middle of a major life transition?
You don't have to go through it alone!
Whether it's a divorce, a relocation, a job change, layoff, or retirement, a new role you are taking on or a role you are releasing, having the tools and a supportive community for coping with the changes will help you survive, and even thrive, during these difficult times.
Join me for a 7 Week Group on Managing Life's Transitions.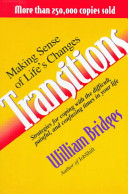 We will use the book Transitions: Making Sense of Life's Changes by William Bridges to explore the three stages of transition: 1. Endings 2. The Neutral Zone. 3. New Beginnings. I've referred Bridges' book to clients going through all kinds of transitions and read it multiple times myself in managing transitions in my own life. Please order a copy of the book from your local bookstore or online.
Dates: Wednesdays March 19, 26 and April 2, 9, 16, 23, 30
Time: 7:00-8:30 PM PST
Location: Pasadena
Week One: The Need for Change
Week Two: Being in Transition
Week Three: A Lifetime of Transitions
Week Four: Love and Work
Week Five: Endings
Week Six: The Neutral Zone
Week Seven: Make a New Beginning
Investment: $299
Register now and get the support and tools you need to "Make Sense of Life's Changes!