Seduce Your Mystic Muse in Mexico TBA

Writing Retreat and Sacred Pilgrimage to San Miguel de Allende and Teotihuacan 
The retreat will begin in San Miguel de Allende—named after Archangel Michael– San Miguel is one of the top 10 travel destinations in the world with all the old world charm of Spain, European style architecture, cobblestone streets and 16th century cathedrals and the new world charm of art, music, gastronomic delights and modern conveniences.
San Miguel de Allende Days 1-3: We'll stay at a beautiful colonial homestead. Our colonial sanctuary is located in the heart of city, walking distance to restaurants, gardens, museums, and local attractions (FREE WIFI included)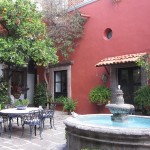 .  Every morning we will rise to coffee and a home-cooked Mexican breakfast.
Our mornings will begin with meditation, light yoga, and daily morning and evening writing sessions where you'll engage in writing exercises that will get your creative juices flowing. Afternoons at leisure to write on your own, siesta, see the sights, and enjoy the best the city has to offer.
On Day 3 we will travel to the Sacred Grounds of the Pyramid of the Moon and Sun in Teotihuacan. The retreat will open with ceremony as we connect with Spirit and the ancient messengers who created these temples and pyramids on this sacred site. We will spend one night on the sacred grounds exploring the sacred sites every morning.
On Day 6 –We'll travel to the International Airport in Mexico City where you will be able to catch a return flight home or branch off on your own to the destination of your choice.
Package Price includes: 5 Nights Lodging, Most Meals, Daily Meditation, Writing Retreat, Transfers to and From Mexico City International Airport, Sacred Ceremony, Shamanic Journeying, and Yoga.  
$397 Non-refundable deposit required to reserve your spot. Click here to reserve with deposit now!
 $1,997 Single Occupancy Private Room
    Payment Options Available
Davina Kotulski, Ph.D. is a published author, licensed Agape Spiritual Practitioner, life coach, and psychologist. She leads writing workshops in the U.S. and abroad.