FEARLESS QUEERNESS™
ONE-DAY INTENSIVE WORKSHOP
Fearless Queerness™ is a One-Day Intensive Breakthrough Workshop for LGBTQ people and allies on How to be Out, Proud, and Powerful that will change your life!
At "FEARLESS QUEERNESS™" You'll Learn:
How to fearlessly EMBRACE YOUR TRUE SELF!
How to BE AUTHENTIC AND FEARLESS about who you are.
The MOST IMPORTANT secret to being comfortable with yourself.
How to ERADICATE internalized homophobia, biphobia, and transphobia.
How to ELIMINATE NEGATIVE BELIEFS about being lesbian, gay, bisexual, and transgender.
How to identify the pain of the past and use it to STEP INTO YOUR POWER!
How to FEEL GREAT ABOUT BEING LGBTQ all the time.
WHAT TO SAY when someone says something disrespectful.
Here's what some participants reported learning in Fearless Queerness:

That being up front and out is less stressful than holding back.
To embrace myself for who I am.
To like myself more.
To speak from my heart.
That by being myself fully, I help others know me and be themselves more fully.
How much energy it takes to hide and that I can have spirituality not matter what my sexual orientation is.
I'm in control of my life and feelings. Only I can change what needs to be changed.
If you want others to love you, you must love yourself!
I felt a reclaiming of my power.
Confidence and self-acceptance. I deserve more.
I'm a person who needs to love himself more for himself and forgive the past and grow more as a person/advocate.
Not to be afraid.

Endorsements for Fearless Queerness™:
| | |
| --- | --- |
| "I would recommend Fearless Queerness™. Davina was able to touch places of my soul that I had forgotten existed. Thank you!" Samantha Vancouver, BC | |
| | |
| --- | --- |
| "Davina did a great job for people of all stages of outness. I got something important out of it even after being queer for more than 15 years! Fearless Queerness™ reminded me of areas I could still be more out and the passion I have around queer issues. Thanks!!"–Dr. Cory N. Berkeley, CA | |
| | |
| --- | --- |
| "Fearless Queerness™ is a powerful workshop. Davina is so committed to self-transformation for people to be love warriors. She leads by example."-Eric Geedey, Redwood City,CA | |
| | |
| --- | --- |
| "I would recommend Fearless Queerness™ because Davina rocks! No words can express how grateful I am to have been able to attend this workshop." –Kristin O. Northern California | |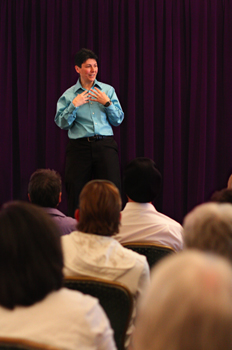 | | |
| --- | --- |
| "Fearless Queerness™ is very powerful and empowering! Davina is a spiritual and empowering coach and mentor. She is very effective, articulate, and inspirational."-Claudia B. Portland, OR | |
| | |
| --- | --- |
| "Everyone needs a chance to be fearless within themselves. Davina is inspiring, amazing, motivating. She could help in so many ways in different situations. I appreciate this opportunity that Davina has given for me to become a better person, a more fearless person. Thank you!" -Steven Marquez, Bakersfield,CA | |
Price: $997
Location: TBA
Date(s): TBA
Time(s): 8:30 AM-6:00 PM
Fearless Queerness Application
Because this program is an intensive workshop, limited to 30 people, we will contact you and let you know if your application has been approved, at which time we will discuss cost and payment.
Davina Kotulski, Ph.D.
4096 Piedmont Ave #812
Oakland, CA 94611
510.594.4322