How to Come Out of the Closet And Into Your Power CD Program
"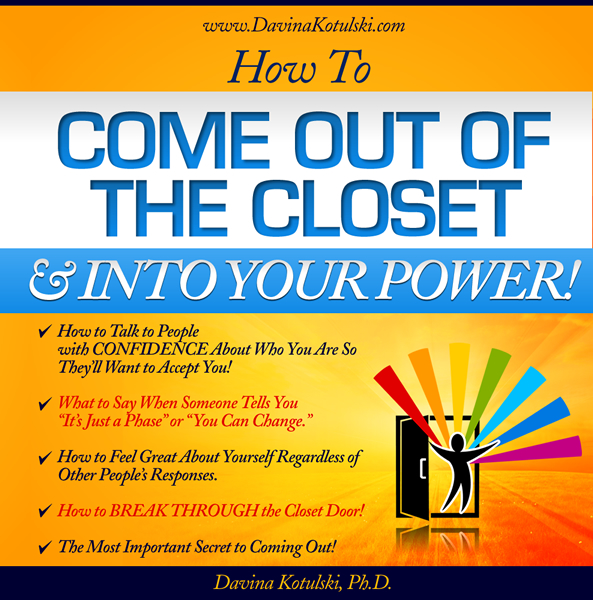 Published By: Davina Kotulski
Published: 2012
Here Come the Brides!: Reflections on Lesbian Love and Marriage
Click here to purchase this book.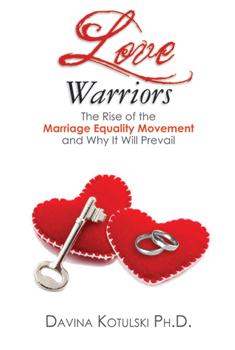 Love Warriors:The Rise of the Marriage Equality Movement and Why It Will Prevail
Love Warriors is a comprehensive reader on the same-sex marriage movement, outlining the rights, benefits and protections marriage provides and the real-life harm caused by marriage discrimination. Kotulski affirms that advancing equality for LGBT people is part of the American legacy of expanding human rights and upholding cherished values. Love Warriors is perfect for veteran supporters and those still on the fence.
"Love Warriors illustrates how society is best served when all loving couples who want to settle down are all able to do so through the civil institution of marriage." —Mark Leno, California Leader "Love Warriors is powerful and educates us to see our common humanity. Equality in marriage is a human rights issue. Read this book and get engaged for justice!" —Dolores Huerta, Civil Rights Leader and Co-Founder of the United Farm Workers "Evolve toward a more enlightened understanding of marriage equality." —Shefali Tsabary, Ph.D., author, The Conscious Parent "A must-read for anyone concerned about equality and justice. If you aren't a Love Warrior before reading this book, you will be when you're done." —Ed Fallon, Former Iowa State Represenative "If you want your opinions about the most important social issue of our time based on reason and facts this book is your MUST READ." —Don Clark, Ph.D. author, Loving Someone Gay Click the link below to purchase Love Warriors.
Published By: Create Space
Published: 2010
Click here to purchase this book.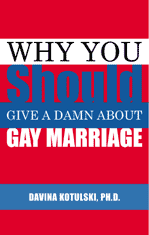 Why You Should Give A Damn About Gay Marriage
Why You Should Give A Damn About Gay Marriage is a quick-witted common sense handbook addressing the absurdities embedded in arguments against marriage equality, as well as in separate-but-equal "marriage lite" options such as domestic partnerships." Advocate Books, 2004."
Dr. Davina Kotulski is a highly respected leader of the marriage equality movement. Her widely acclaimed first book, "Why You Should Give A Damn About Gay Marriage" has become a text so valuable that it is often referred to as "the bible of same-sex marriage". Dr. Kotulski has poured her soul and boundless energy into working tirelessly to help same-sex couples be treated equally in a society that has for too long turned its back to them. Dr. Kotulski and her wife, Molly McKay, have been featured in award-winning documentaries such as "Freedom To Marry" and "In Pursuit of Equality" and are national and international leaders helping end discrimination of the LGBT community. Dr. Kotulski is an extraordinary writer and remarkable human being. It is with great pride we urge everyone who cares about fairness, justice, and respect for those who happen to love someone of the same-sex, to read and be inspired by Dr. Kotulski's two heart-felt and enlightening books.
Laurie York and Carmen Goodyear Co-Directors, "Freedom To Marry – The Journey To Justice"
Click here to purchase this book.
REVIEWS OF WHY YOU SHOULD GIVE A DAMN ABOUT GAY MARRIAGE.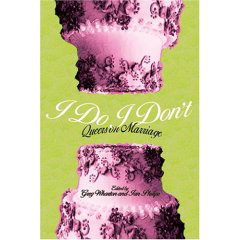 I Do, I Don't : Queers on Marriage Anthology
Davina's prose is also featured in this anthology that collects a diverse array of queer voices on the subject of marriage: including poetry, prose, personal essays, nonfiction, interviews, vows, rants, love letters, sermons, photography, sketches, cartoons, and doodles. Silly to serious. In favor and against."
Suspect Thoughts Press, 2004.
Click here to purchase this book.
Authored Articles